Dental care tailored for TriCity kids and their developing smiles.
Regular dental care is essential for children, to help them set a solid foundation for lifelong oral health. Our team is experienced in working with children of all ages, making dental visits fun and enjoyable.
At Elgin Dental Group we offer a full range of children's dental services:
Cleaning
Fillings and Sealants
Extractions and Space maintainers
Pulpotomy
Stainless Steel Crowns
Habit breakers (Thumb sucking, etc)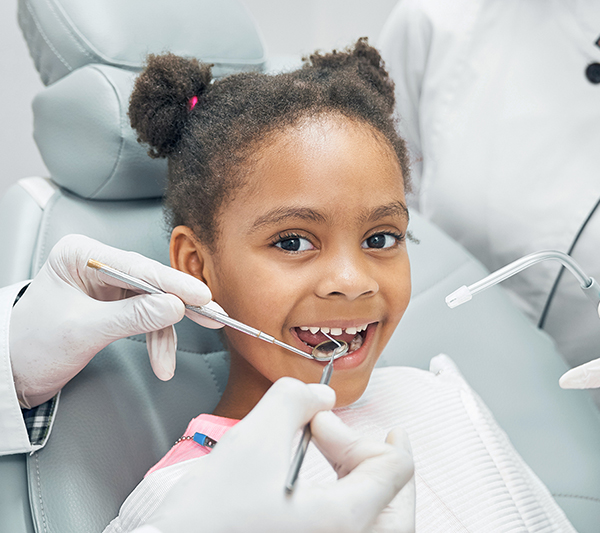 Starting with their first visit (ideally at six months of age) and all through their school-aged years, we work with them to keep their smile healthy. We provide regular cleanings and exams and review proper preventive hygiene techniques at each appointment to ensure their teeth receive appropriate care at home.
For children at a higher risk than average of tooth decay, or for those that have special circumstances or needs, restorative dental services or customized treatment plans may be recommended.
What are Sealants?
A dental sealant is a thin plastic coating that fills in the grooves of molars and premolars. These grooves collect plaque, a film of food and bacteria. Toothbrush bristles usually can't reach the plaque that accumulates within the grooves, and this can cause decay.
When should your child get sealants?
We recommend applying dental sealants to teeth with deep grooves as soon as the permanent molars come out, usually between the ages of 5-7 for the first molars, and between ages 11-14 for the second set of molars and the premolars. As the wear out, they should be replaced.
How are sealants applied?
After we clean and dry the teeth, we apply a special solution that slightly roughens their surface. This increases the bonds strength. We paint the dental sealant on and harden it with a harmless high intensity light, forming a protective shield against decay. The procedure is performed by one of our gentle, experienced Port Coquitlam team and is quick and painless.
About Us
At Elgin Dental Group, we are committed to providing the highest quality dental care, utilizing the latest advancements in dental technology.