Dr. Sharareh (Sherry) Ghodousi, DDS, DMD
Dr. Sherry graduated from Tehran University's Faculty of Dentistry with a Doctor of Dental Surgery (DDS). She spent several years working at the Pediatric Hospital at Tehran University and was the former owner/director of the Ghodousi Medical Centers located in Dubai and Iran.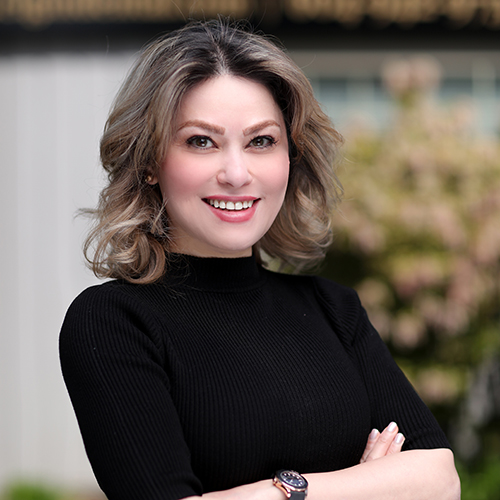 After moving to Canada, Dr. Sherry received her Doctor of Dental Medicine (DMD) from the University of Manitoba, after which she worked many years in private practice while also teaching part-time at the Faculty of Dentistry at U of M.
Aside from her many years of general dentistry, Dr. Sherry has taken courses all over the world in such techniques as Invisalign, Botox, Implants and Dental laser training. She strives to familiarize herself with all the latest techniques to provide the best possible care for her patients. She loves children and has an easy-going chairside manner.
Dr. Sherry is passionate about learning and teaching. She has published research papers from her time at the Children's Medical Center Hospital at the Tehran University and is currently a part-time faculty instructor at the UBC Faculty of Dentistry.
When you meet Dr. Sherry you will observe her positive and bubbly personality. Her passion for her profession, patients and team is noticeable. Outside the office Dr. Sherry enjoys playing piano, drawing, hiking, skiing, and spending time with family.
Publications:
Gastroesophagel Reflux Disease and tooth erosion in cross-sectional observation study. Author: Farahmand Fatemeh, Sabbaghian Mozghan, Ghodousi Sharareh, Seddighoraee Nasila, Abbasi Mahdi 2013-04-09 Journal Gut and Liver.
Dental Problems in Hypophosphatamic Rickers; A cross sectional study. Author: Ali Rabbani, Parisa Rahmani, Sharareh Ghodousi Iranian J Pediatric 2013: Vol 22.
About Us
At Elgin Dental Group, we are committed to providing the highest quality dental care, utilizing the latest advancements in dental technology.